Reviews of Linda's Book
Compassionate Mediation® For Relationships at a Crossroads: Add Passion to Your Marriage or Compassion to Your Divorce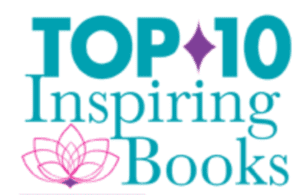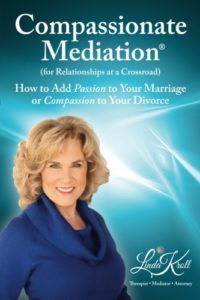 "I was at a difficult point in my marriage when I found Linda's Compassionate Mediation book.I felt stuck, anxious, powerless to fix my relationship with my husband, and unsure of who to turn to for help.
I picked up the book, and it changed my life.
Linda's story made me feel not alone in my struggle, and her description of the qualities of true Self gave me hope.She spoke to me through that book and helped me find my way back to love and happiness.It launched me on a new path of transformation, not only in my marriage, but in my parenting relationships and in my life as a whole.
Now I see that the struggle that seemed so dark at the time was only a step, and an important step, in my journey to greater happiness. I am so grateful that Linda was somehow "there" for me when I needed it most.
Thank you, Linda, for the light you bring! "(My thanks to Genevieve Pollock, https://www.facebook.com/genevieve.pollock)
This is an excellent choice if you are wondering is my relationship over or should I keep trying? As a relationship counselor I meet many couples with just this question.
This is the perfect book for those couples struggling with the question of whether to stay and work at improving their relationship or leave and close down this chapter of their life.
The insights and guidance in this book are well founded drawn from humanistic psychology practices and research as well as Linda's personal and professional experiences and spirituality.
Because this is such a big life decision couples often worry if they have done all that they can do before leaving their relationship. Using this book as a guide you are directed to turn inward towards yourself and get to know your needs and how to have a compassionate inner dialogue first. Then you are shown how to step back to meeting your partner in ways that speak for your needs calmly with connection to your self and your partner.
From this book you will learn ways to connect with your qualities of calm compassion and be more Self-led in your choices. In this way of relating, it becomes clearer if you can re-ignite your relationship or if it would be best to move into dissolving the relationship.If you find you cannot create a new relationship with your partner ways are demonstrates to reduce your stress and make your decision from a caring compassionate place for yourself and others.She introduces some excellent strategies to ground you and instill calm and confidence as well as questions to guide you in the divorce process. With diminished stress and conflict more meaningful and compassion conversations will co create a future where you both thrive.
Linda Kroll presented professional and appropriate guidance that was very clear and compassionate in itself.

Linda has a very spiritual approach for mediating relationships. Plus she includes practical guidance for people who find themselves in specific situations in their relationships. Her sources are first rate and trending for this time. I read through it easily and quickly and recommend it highly to everyone who has ever had a bump in their relationship road, whether it be a tiny molehill or a gigantic mountain.
Pick this up if you are having marriage or relationship troubles
Linda draws on legal, psychological and spiritual sources which may be new or familiar to readers. And so, she sets the stage for her method of approaching this life crisis with respect and compassion for all involved. In the core of the book, Linda explains her steps to crafting a peaceful, constructive, and healing process of either reconciliation or divorce and how to navigate the consequences of either decision. A great book to read in tandem with "Conscious Uncoupling" by Katherine Woodward
Compassion is the key ingredient's in all relationships!
Linda Kroll gets right down to business with a guide that will inspire and encourage healing and wholeness in your marriage and yourself as a single person of divorce.
Ahhhhh ! This book is a breath of fresh air in the business of mediation and divorce. Finally something worth reading. Gave me practical tools for bringing higher consciousness, mindfulness, SELF-leadership, and loving-kindness to relationship healing.
3 people found this helpful
This book is a blessing. It is a refreshing approach not only to those considering or going through divorce but to all relationships and especially the relationship you have with yourself. Thank you Linda for this beautiful gift. You are changing lives and I believe in the long run changing the worlds outlook about divorce.One person found this helpful=
This is a must read for anyone who wants to get meaningful insight and tools to move forward feeling relief, peace of mind and joy. Transformative.
A phenomenal guide! Thoughtful, helpful, easy to read book that provides the tools you need to communicate with your partner.
Great author. She is the "Real Deal". Very compassionate in person and in her authenticity. HIghly suggested reading for anyone facing the divorce process of working with those going through it.
Everyone can benefit from the kindness found in this book. Relationships are truly the core of life, and navigating them is one of life's biggest challenges. Linda Kroll provides a roadmap to help readers do just that. I found this book to be one of the most insightful I have ever read and highly recommend it to others. This is the best. I read this as someone who whas been affected by both Marriage and Divirce (both twice.) Wish I had read Linda's book and advice before all the grief. Linda, you're now a blessing to all us singles who want to avoid the grief of marriage/divorce. Thank you!
Linda Kroll has nailed it! She has compiled her wealth of knowledge, insight and wisdom in an easy to read volume. Those struggling with a relationship dilemma are going to find this book very, very worthwhile!
Heartfelt, wise, clear and inspiring! Linda Kroll's Compassionate Mediation will help with every relationship in your life! This book is most definitely a "must read," it's a life-changer…
Amazing
Reviews of Kindle Book:
Compassionate Divorce™:
Changing the Face of Divorce, One Heart at a Time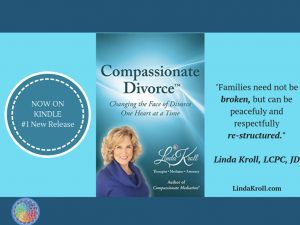 A Compassionate Divorce is possible! We don't have to hate the person we married just because it isn't working out for us together anymore. For our children's sakes, and for our own, we owe it to ourselves to learn how to communicate better than we have before.
Linda Kroll shares her personal story of love and loss as well as her professional expertise as a therapist, mediator and attorney. She reminds us that we are both hurt, sad, and scared, no matter how angry, guilty, or reactive we feel.
Once we have compassion for ourselves, we can offer more compassion to our partner, and from a higher perspective, create a new beginning as a "re-structured family." Thank you, Linda, for lighting the way for a better way to resolve conflict, and to heal wounds from the past. This should be required reading for anyone considering a divorce!
Linda Kroll is a therapist, mediator and attorney, as well as a Chopra certified master teacher of meditation, yoga and perfect health. She brings all of her skills, plus her personal story of love and divorce, to her process of Compassionate Mediation® leading to a Compassionate Divorce™. At first it doesn't make sense, because if we could be compassionate, we could stay together. (And some people can start over with this process and stay together and create a better marriage.) But if you're getting a divorce, or past a divorce, not sure what you want to do, read this book to remind yourself that you can have a kinder, gentler parting and make decisions from what Linda calls your highest and best SELF. This should be required reading for anyone considering a divorce!
Wow, finally a book on divorce that isn't all about aggression and fighting. Even if you're the only one to recognize that a better divorce is possible, you can make it happen. No need to get locked in battles or spend the rest of your lives avoiding someone who is the other parent of your children. Find a way to communicate that fosters a better connection than the one you are leaving. Do yourself a favor and read this book and heal your heart even as you divorce.
Linda Kroll has been helping individuals and couples for over 25 years. In this interactive book – with links to free gifts and free videos – she offers her perspective and guidance on creating a better way to end a marriage. I wish I could have shared her wisdom with many friends who have suffered from a typical divorce. This book makes a great gift for someone you know who is struggling with indecision, caught in a typical adversarial and costly divorce, or who is long past their divorce and wants to have a better relationship with their "ex". It's possible with Compassionate Mediation® and Compassionate Divorce™.