'Uncle, I surrender," cries my Ego.
All those Parts of me that want to be in control, do it myself, know the right path, have it all figured out, need to know, are afraid to trust, tell me how great I am, tell me how flawed I am, remind me of all the "what if's, could be's —and the worst – all those "shoulds."
All those Parts of me are exhausted, depleted, hopeless, depressed, enervated, bored, unhappy, frustrated, self-pitying, self-aggrandizing, judgmental, blaming, guilty, ashamed, and ready to walk away from everything I've created and wanted to offer all of my life.
Uncle. i give up.
But the "i" that is giving up is that little "i," that "individual "i", that small self of my ego – finally ready to SURRENDER to the strength of my SOUL.
I'm ready to take on my role as the Channel— which we all are — and release my Ego's siren's calls and quiet my mind enough to hear the quiet whispers of my heart's true desires.
I want to release the cacophony and flow into the peace.
Then I want to do the next right action that brings me joy.
Uncle, I surrender.
Uncle, Here I am (Hineini)
As Rosh Hashana approaches, HERE I AM, Dearest God, asking for forgiveness and willing to listen and respond to what I hear from YOU. 
God's will be done.
I am but the Paint Brush waiting to be used by YOU.
TGKOW/TYDGA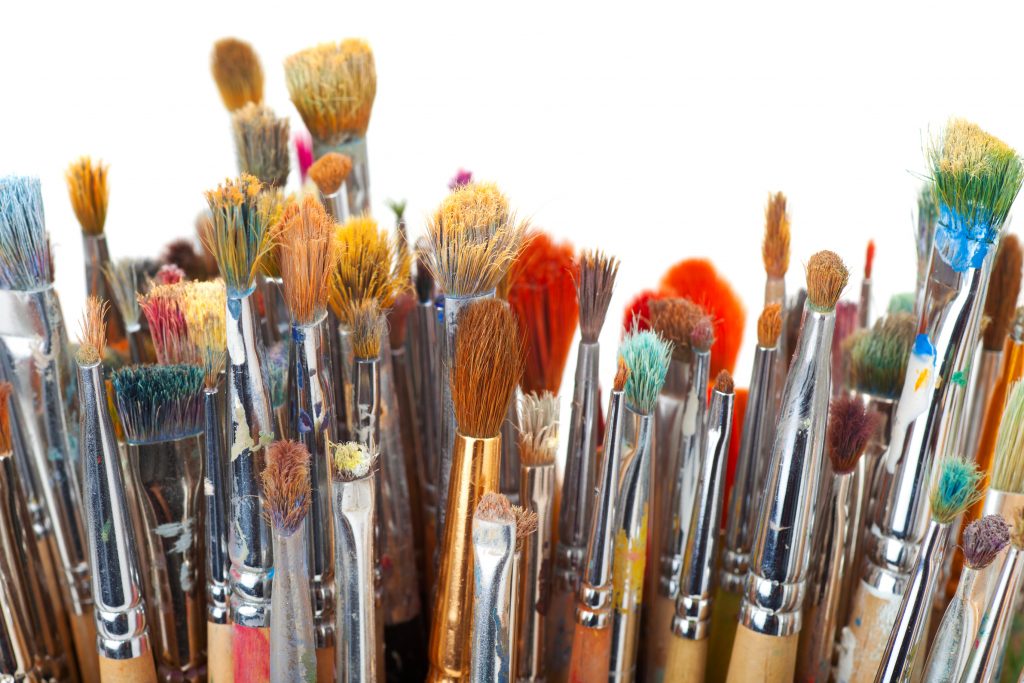 January 9, 2006
The Patient Brush
There once was a brush, all bristly and new
Who wondered about all the things she would do.
She'd paint the skies red. She'd color seas green.
She'd become the best brush that had ever been seen.
She flittered about in a flash and a flurry
And wherever she'd go, she'd rush in a hurry.
So much to do. So much to create.
She could never sit still, and just dry up and wait.
She saw other brushes that made her feel small.
She tried even harder to out-paint them all.
Her bristles got matted. Her handle got rusty.
Her pictures were blurry. Her ideas got musty.
With nowhere to turn and no end in sight.
She frantically busied to make things feel right.
And one day she saw in the bunch an old brush,
Who patiently waited, with no need to rush.
That brush did not care, as it stayed very still.
It had no agenda, no worries, no will.
It just rested and waited, as it seemed to just know
That its purpose was clear when the right time would show.
The Old Brush was present, the Old Brush was clean.
The Old brush was quiet, and almost serene.
The hand of The Painter then slowly descended,
And picked up the Old Brush, with a purpose transcendent.
As the Painter took over, the Old Brush just flew
Creating a masterpiece again and anew.
And the harried brush pondered, feeling lost and depleted,
If it could get quiet would it ever be needed.
It decided to slow down. It got very still.
It surrendered its ego. It gave up its will.
And The Painter could find it when its bristles were needed.
For it had its own purpose when its ego receded.
The Painter could use it to create works anew.
All of which were beyond what that lone brush could do.
So as you scurry and scamper to get through the day.
Can The Painter now find you? Do you get in your way?
If you get still and quiet, when the timing is right,
The Painter can lead you, with no effort or fright.
You will sail through your day with grace, joy and ease.
Which brush are you? Be the patient one please.
For you'll find we're all brushes, and each one is great.
As we trust in The Painter and then co-create.
TYDGA