WHY I CREATED COMPASSIONATE MEDIATION®
Not long ago I was facing the possibility of ending my marriage. I vacillated for years, thinking that my indecision was benefiting my children because our family was still "intact."
I didn't have the tools to effectively communicate all that I truly wanted and needed. My husband and I did our best, but when we finally made our decision, we gave in to some of the typical adversarial divorce processes – court, attorneys, hurt, anger, sadness, pain.
Our daughters watched the proceedings, trying not to take sides and feeling caught in the middle. Their sorrow from the reflected sadness and anger of each of us definitely impacted them, and probably still does. The process went on for years, and we all suffered.
One day, as I sat in the courtroom with the man I once loved enough to promise to love forever.
I realized there had to be a better way to get divorced – or a better way to create a new and better marriage.
What I quickly discovered is working with couples is that people often give up too soon. They don't know how to communicate with compassion and confidence, and they throw in the towel because it seems easier than staying and facing all the issues that divide them.
It's hard work to get divorced, and the effects of it linger for lifetimes. It's often a time of personal reflection and can be a time for spiritual growth. I've realized that if an individual or couple is willing to put as much energy in their own personal transformation before they get divorced, there would be many more happy intact families.
If even one member of a couple is willing to bring their higher self into their relationship, let go of the judgments they have formed about the other, heal the pain from the past, and relate from their heart, miracles happen.
They could talk about all the issues that cause conflict or pain and create a new relationship together – whether they decide to stay or go. I was able to help my clients avoid the pain and suffering my family had endured.
I put together all the education I had acquired…
As a therapist, mediator, attorney, teacher of meditation, yoga and Ayurveda, I created a process to help couples resolve conflict with higher consciousness and empathy.
I have worked one on one with clients for decades, and decided I wanted to create a program that could help people all over the world. My online course is ready now for the pubic, and I hope that you will join me in providing this process in your community.
I offer you all the information, guidance, and support I have created for my clients. You will have audios, videos, workbooks, templates, scripts and bonus materials that will provide a roadmap to lead you effortlessly in this process..
I'll teach you the same program I've used to help hundreds of individuals and couples for over twenty-five years.
Imagine that in a short amount of time,
you will be able to learn all that you need to offer this system
to all your current and future clients.
If you are a therapist, mediator, attorney, coach or member of the clergy, this training is for you.
As an attorney, I didn't like the whole adversarial process where there was a Pyrrhic victory at best – one major winner versus a major loser, with children always suffering, not matter the outcome.
As a mediator, I was frustrated watching warring couples continue their battles in my office without a meaningful way to intervene.
As a therapist, whose father was a manic-depressive who yelled a lot, I had trouble staying "in SELF" with angry clients, who reminded me of my dad and made me cower inside like a little girl, no matter how professional I tried to act.
I coached hundreds of individuals and clients to be more compassionate with themselves and each other, and gave workshops on letting go and moving on, even as I pushed myself to do more, and stayed separated for 9 years before my own divorce.
In all that time, I knew there had to be a better way to communicate and to heal relationships before, during and even after a divorce.
I have learned and practiced Internal Family Systems Therapy for almost 30 years. I was honored to learn from its founder, Richard Schwartz, Phd.
In his review of my book, Compassionate Mediation® for Relationships at a Crossroads: How to Add Passion to Your Marriage or Compassion to Your Divorce, Dick wrote: "Linda Kroll is a master at lifting couples out of their narrow protective perspective. They then learn the larger lessons from their relationships and proceed based on the best interests of all involved. This is relationship healing at its best."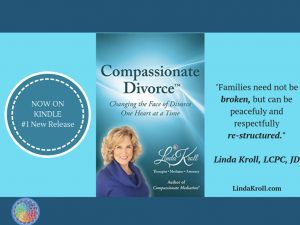 I also spent five years at the Chopra Center in California, where I studied with Deepak Chopra, David Simon, davidji, and Claire Diab, to become one of Chopra Center University's 350 Master Teachers in the world.
I merged my legal training, mediation certification, IFS therapy, and spirituality to create the Compassionate Mediation® Process, which I would love to teach you so that together we can help change the face of divorce – one heart at a time.