Compassionate Mediation and IFS
Compassionate Mediation incorporates IFS therapy, higher consciousness, and other modalities to help an individual or couple to talk about their options.
Many times people don't know what their options are.

They come in to see me, they're unhappy, but they don't know if they want to stay or go. They've thought about leaving, but a separation sounds scary. They've thought about a divorce, they don't know what to do next. They don't want to go talk to a lawyer because it makes it too real.
Using the principles of IFS, what I'm also offering you is the information and the framework for delivering that information that makes you an expert in a newly evolving field of Compassionate Mediation®.
My hope for the future is that if someone feels that they're having conflict in their relationship, they want to go to someone who also has the tools of Compassionate Mediation so they can talk about all their Parts and communicate from their highest and best SELF.
Maybe, just maybe one or both of them has thought about separation or divorce. Usually they think about it for two to ten years before they act on it.
What Compassionate Mediation does is offer them the OPTION to add passion to your marriage, or compassion to your divorce.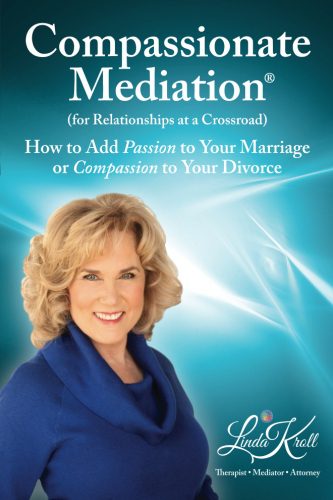 It's the same skill-set – to talk about a new and better marriage – or a peaceful and respectful divorce.
My first one or two sessions are exactly the same — even if people are coming strictly for mediation. They learn the skills of Compassionate Communicaiton first.
I want them to access and understand how to speak from their higher self, I want them to understand what parts means, in terms of their own parts and their partner's parts. I want to teach them that there is a way to empathize. "You may choose to leave, but you can still be empathetic."
And I want to help them create a compassionate relationship because even if the relationship ends, then it will create a new beginning of two restructured families.
In terms of how to integrate this, there's a lot of information that I'm going to offer you.
Once you have that in your skill-set, you'll know that should somebody come into your office for whatever reason.
People come in with eating disorders. People come in depressed. People come in with anxiety. And what's really going on when you get underneath it is that they're unhappy in their relationship, but they don't want to talk about it because they think, "Well, if I talk about being unhappy, I'm going to have to leave. I don't want to leave, so I don't want to talk about it."
But we help them talk about everything, and we help them see they can consider an ending, they can get their information, and then they can make informed, enlightened, empowered, SELF-lead decisions.
Please sign up for a brief chat to learn more and I can share with you. my 35 years of experience as an IFS therapist, mediator, attorney, and Chopra Certified teacher of meditation, yoga, and Ayurveda.
I blend emotional and spiritual healing along with financial and legal information and support. I want to share all of these tools with you so that you can expand your expertise, impact, and income.
We are also creating a community of professionals who are helping to change the face of divorce, one heart at a time.
If you are a therapist or coach, you can receive continuing education credits from the National Board of Certified Counselors (NBCC) and the International Coach Federation (ICF), respectively.
Please join me and let me share these tools with you so that you can share them with others.