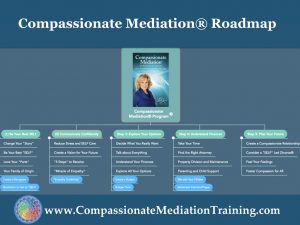 I'm Linda Kroll. I'm a therapist, mediator, attorney and I'm author of the book Compassionate Mediation: How to Add Passion to Your Marriage or Compassion to Your Divorce.
Here are the 5 modules of the Compassionate Mediation Roadmap which can be incorporated in your practice now.
Module One: Be Your Best SELF
The first module is helping your clients
be their best self
look at the story they're telling themselves
get to practices to be "in Self" — whether it's to meditate or do therapy with you, go out in nature more or whatever replenishes them.
How can they take better care of themselves to see the light inside of them and the light inside of their partner?
How do they love the parts that they've shown their partner and the parts that their partner has shown them?
Then they can understand how their family of origin has influenced not only them, but has influenced their partner.
And when they get that bird's eye view of their relationship, they can see with more compassion that they both have done the best they knew how to do and they can do better if they only knew how.
So in the first module, I help them or help you help them to create a genogram to show how their family has influenced them.
There's also a guided meditation to get to Self.
That's all in the first module.
Module Two: Create a Compassionate Relationship
The second module talks about how to communicate confidently and compassionately.
When we're "in Self," we're calm, clear and compassionate.
What we do in the second module is to offer practices to reduce stress and take better care of ourselves.
You can help your clients to create a vision for their future.  Instead of focusing on what's wrong and what the negative aspects are, they begin to think positively, and they learn the five steps to receive what they want and need.
Those five steps are:
remember what you want and need,
know you deserve it
learn how to ask
be willing to receive and
stay grateful.
We go over these steps so that your clients begin to think positively and begin attracting to their lives more of what they want.
They also learn the Miracle of Empathy. They begin to
use "I messages" instead of "you messages,"
really hear their partner and understand their partner's perspective and
empathize in a way that lets their partner know that they're seen, heard and validated.
learn the power of "thank you and I'm sorry"
truly create a new and better relationship — even if it's a relationship that's going to come to an end.
Module Three: Explore All Options
Module three in the Compassionate Mediation Program is how to explore their options. And the options aren't just to stay together or separate or get divorced,
There are all different kinds of options.
If they're happy and hopeful things can get better, you can offer them ways to have more intimacy, more contact, more connection.
If they're unhappy and stuck, again, you could look at where they're stuck and help them move through it with suggestions for how to communicate better, what they're afraid of talking about.
So as they decide what they really want, they can talk about everything.
They can learn how to understand their finances, which is often a source of discontent in relationships. Sometimes, just understanding their finances and being more of a partnership will help them create a new relationship.
Again, they explore all of their options, which you learn how to share with them because I share those with you.
They can create a budget with the budget form so they can calmly discuss all the issues to lead to a peaceful and respectful resolution no matter what that resolution is going to look like.
Module Four: Understand their Rights and Finances

Step four in the Compassionate Mediation Program is to understand their finances.
Your clients can take their time. If they're going to go to an attorney, you help them take their time to find the right attorney.
And in this module, I give all the information they need about how to understand property division and maintenance and parenting and child support.
So instead of going to an attorney and being anxious for an hour and listening to pick up what they can or they can hear it from you if you're delivering it yourself.
It also gives guidelines on how to talk with your children.
I also share the Settlement Prayer that I gave to my husband on the day we got divorced. When I shared it with a client, she gave it to her husband and instead of having a litigious mediation and adversarial court battle, they sat down with the prayer and intention and wrote out their own decree to restructure their family in the highest good for all concerned.
Module Five: Create the Relationship You Desire and Deserve
The fifth module takes all that they've learned in the first modules to
create a compassionate relationship
talk about all the issues with empathy
decide if they're going to create something new and better together and stay together or
consider a Self-led Divorce®, where they bring their highest and best self to the negotiations and the decisions to be made.
This module is a reminder to feel their feelings and to foster compassion for all.
With all of these steps of Compassionate Mediation, healing can happen.
Compassionate Mediation® Training 
Compassionate Mediation Tools for Your Practice Now gives you
these tools so that you can offer this to your clients.
techniques that I've used
the videos I've shared
the handouts
outlines and
support that you need to pass this training along to your clients.
Compassionate Mediation can help your clients have better relationships. You can help more people while you earn more money as you become an expert in your field.
It can teach your clients a new way to communicate where they forgive each other, learn how to connect with empathy and compassion, and bring joy back into a revitalized relationship.
Should they decide that their marriage or relationship is meant to end, they can peacefully and respectfully restructure it, whatever form it takes.
There can be a Compassionate SELF-Led Divorce®. I've helped people have them for the last 30 years, and you can help your clients have them too.
I'm hoping that you feel inspired, that you feel excited, that you feel that there's a possibility about joining me in this evolutionary process.
Whatever you want, whether it's more tools, more confidence, more collaboration, more impact, more income, more freedom of lifestyle to be with your family, to travel — whatever you want —
I hope that whatever I've created can be something I can give to you and you can take it and use it in your practice and create the future that you truly desire and deserve.
Let's change the face of divorce and conflict in general, one heart at a time ‑— as you increase your impact, your expertise, and your income.
You can do it in community, you can do it in collaboration, you can do it with all the guidance and support you need, and it all starts with Compassionate Mediation  — and Compassionate Mediation Training is available to you now.